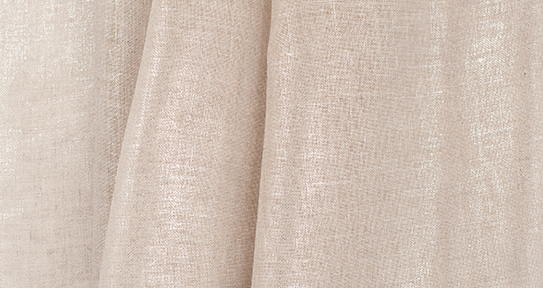 Natural linen taupe with an open weave - subtle sheen of silver.
Performance
Comp: 100% Linen
Width: 140cm
Uses: Drapery
Rub Fastness: N/A
Martindale suitability guide: N/A
Sunlight Fastness: 4 out of 8

Warning - This fabric has low sunlight fade resistance. Not recommended for use in Roman Blinds. Please see our Performance section for more information about sunlight fastness.

Care Instructions
Care code:
36
Do Not Dry-Clean
Gentle Hand Wash Only 30deg
Possible Shrinkage 5%
Hot Steam Iron (Reverse Side Only)
Do Not Bleach
Do Not Tumble Dry
Protect From Direct or Strong Reflected Sunlight
Do Not Rub Stains - Professional Clean
Vac Regularly Low Suction
Allow a Double Hem for Atmospheric Humidity Variations
Possible Atmospheric Movement +/- 2%